Japanese Wine, Château Mercian
"Introducing finesse and elegance originated with Japanese viticulture" This is Château Mercian's primary mission for Château Mercian. Château Mercian is their flagship brand wines which embody the spirit of Japanese earth, grapes and people's delicateness.
Chateau Mercian Muscat Bailey A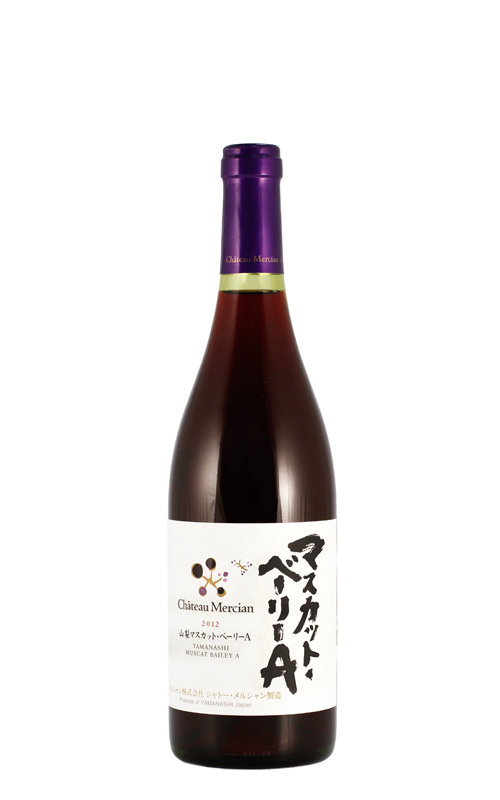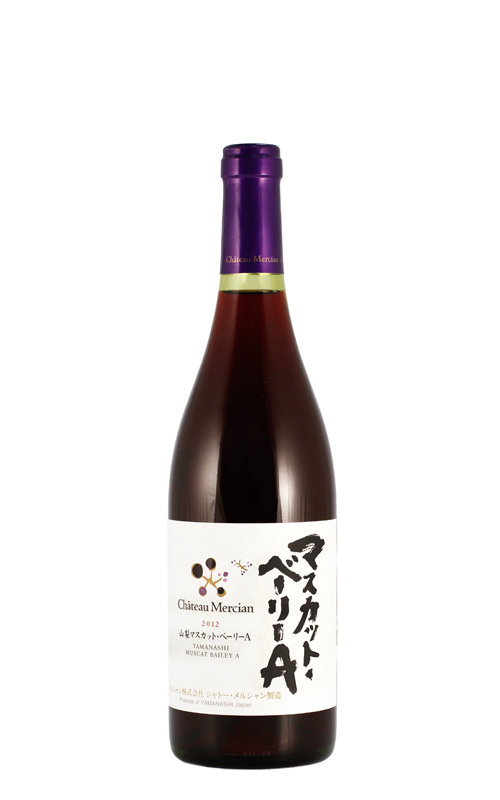 Chateau Mercian Muscat Bailey A
Type: Muscat Bailey A
Item#: 5092
Size: 750ml.
Case Count: 12 Bottles
Region: Yamanashi Prefecture
Vineyard: Chateau Mercian
Founded: 1877
Vineyard Notes: The first private winery in Japan called Dainihon Yamanashi Budoshu was established in 1877. Two winemakers were sent to France to learn authentic winemaking, and their spirits still exist in the winery together with their state-of-the-art technology. They are proud of being the leader of winemaking in Japan, and participate actively in the local seminars and meetings to share their skills with the winemakers of other companies in the area, hoping to promote the improvement of technology. Thanks to this positive attitude towards sharing and learning, Japanese wines have a higher status now than ever before, and have received a multitude of awards in world competitions. The grapes used for Chateau Mercian are mainly from Yamanashi and Nagano Prefecture, and some are from northern Japan, where duration of sunlight is longer and the rainfall level is minimal.
Château Mercian is the highest quality wine which was brought about in 1970 by Mercian corporation, who is the successor of Japanese viticulture and its pioneer spirit.
In order to make real attractive Japanese fine wines, it was necessary for them to start with realizing the best environmental conditions. Therefore, at the same time creating Château Mercian brand, their Katsumnuma winery started to prepare the best terroir in which high quality grapes can be harvested for making fine genuine domestic wines.
In 1976, cultivation of merlot was started at Kikyogahara district of Nakgano prefecture with their entrusted growers. After they had struggled for ten years the first vintage, "Shinshu Kikyogahara merlot 1985" received great gold medal in an international wine competition and this proved that high quality merlot could be grown also in Japan.
In 1984 they acquired Jyonahira district in Katsunuma City of Yamanashi Prefecture, where Chateau Mercian Winery is located and started to grow cabernet Sauvignon by Vertical shoot positioned trellis system. The first vintage of Jyonohira, which is Jyonohira Cabernet Sauvignon 1990" was also awarded gold medal in an international competition.
Private Reserve Series
This series is a result of their aspiration and passion towards wine-making in Japan inherited from Meiji era.(1867~1711) This prestige wines of Château Mercian are made from only the best quality grapes to express the uniqueness of each appellation, acknowledgment of wine-making to be the world's best, and the wine-makers' passion.
District Series
A wine series that serves as a model for Japanese fine wine, rich in unique character through the linking of various production regions and grapes varieties.
J-fine Series
A wine produced using the sur lie process, as a result of blending Japan-grown European varieties and Japanese varieties and seeking a sensitive dryness specifically Japanese. A very Japanese-like sensitive and sophisticated series produced from high quality grapes and selecting a wine making approach best suited for them.